Skip Navigation
Website Accessibility



KNITTING, CROCHETING, WEAVING, & SPINNING





TEACHING STAFF

We are blessed with so many knowledgeable and talented instructors who offer classes in knitting, crochet, weaving, spinning, tatting, and most anything fiber related that you'd like to learn! If you are interested in trying something new or simply honing your skills, this is the place for you. Ewe CAN do it!!
My grandmother taught me basic embroidery when I was 5 years old. Next she taught me to crochet and knit by age 10 period by age 13 I was sewing some of my own clothes.

I have been weaving for over 22 years, and have taught all sorts of crafts since the early 1980s. I have been with knit and Stitch for over 16 years.

My favorite reply to people who ask about how many crafts I have my fingers in is to say, "I may not be able to do everything but I love that I can TRY everything!"

To me yarn and fiber represent Endless Possibilities whether I am weaving spinning knitting crocheting stitching felting braiding or whatever I haven't yet tried!
Hi, my name is Jamie Brooks. I have been a crafter of some kind my whole life it seems. I learned to crochet as a child, but didn't pick up knitting until my 30s when my sister was expecting.

I love to knit colorwork of all kinds, garments (especially those I modify to fit), and lace. As my students will attest, I rarely work a pattern I do not modify :)

ELLE ROSS


I am a wife, mother, chef and yarn addict.

When I'm not making amazing culinary creations at Cypress Table in Cocoa Village, I spend my time knitting while listening to fantasy novels on Audible.

One activity I love is hanging out at the beach with my two girls, Clementine and Madeleine.

BARBARA CLAPP


I grew up in rural Alaska, spent several years in Utah, and am now loving the no-snow Florida life.

I learned to crochet at 5 years old when my mom taught me to make my own Barbie clothes. Learning to crochet is a tradition in my family. I knit, Tunisian crochet, cross stitch, spin yarn, dye yarn and fiber, and dabble in all sorts of fiber arts.

I love to share my passion for fiber arts with others. I have done many 4-H and homeschool demonstrations. I love to teach at the Knit & Stitch!

I have a strong belief that fiber arts bring people together and help to build a stronger community.

JEANIE MCCORMACK


L I started sewing, embroidering, and crocheting as a preteen, learning from my mom and a very special next-door neighbor. I made many of my own clothes from Jr High on and created my first quilt, a Sunbonnet Sue applique, when I was 21.

Quilting was my passion until I discovered weaving in 2019 when I took a class at Knit & Stitch; this was also the year that I got my first spinning wheel. Since then, weaving, spinning, and stitching have filled my days, with much time spent creating hand-crafted, functional items and sharing my skills with others.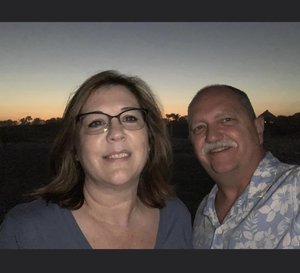 AMY DUGGER


At a young age, my granny and my mother introduced me to crochet and embroidery. Hobbies and crafting have always been a part of my life.

In March of 2021, my dear friend invited me to take the beginning knitting class at Knit & Stitch boutique with Barbara Pietruk. I love learning new things and I am driven to accept new challenges, so I did not hesitate to join my friend to learn how to knit. I do consider myself a "young knitter".

My favorite quote by Thomas Edison--"I have not failed. I've just found 10,000 ways that won't work."

FAYE PORCHE


Fiber brings me joy!

I have been knitting and crocheting for 30+ years; it's my meditation.

I have recently learned to spin and love it also--another meditation!

Like all crafters, I always have 3-4 projects going. In addition to footies, shawls, and hats, I enjoy making little teddy bears that I give as gifts; I've made them from a variety of materials and I enjoy seeing them make others smile!

PAULA KING


I've been involved in textile arts since high school learning sewing, embroidery, crochet and cross stitch, but knitting is my favorite.

I learned to knit about 17 years ago from a retired 3rd grade teacher. I've been designing since 2007, starting with felted items. In 2017, I expanded to designing other knits as well.

GLORIA VESCHI


I love my dog, Nikki and I love knitting!

I am self-taught knitter from the time I was very young. I picked it back up about 25 years ago. Next thing I knew I was working a dream job in a knit shop! Who knew that would happen?

I have always enjoyed teaching and I love working at Knit & Stitch.

CHRISTINE SMALL


My name is Christine.

I learned to crochet from my grandmother and mom when I was a teen. I learned to knit in 2010 and believe it or not, Annie Berry taught that beginning class! I fell in love immediately and began the journey of fiber arts to the max.

I took every class that I could that Knit & Stitch had to offer. I love all the fiber arts, but alas I'm a master at none. In 2015 I became an instructor to share my love of the craft.

Knitting has been my favorite craft and I love sharing the techniques that I've learned throughout the years. If I were to have a YouTube channel I would call it the "Lazy Knitter" since I really love finding the easiest way to knit the product that I knit!

EDDIE HUMPHREY


I'm a young old woman who got her love of handcrafts from both mother and father, and who remembers her grandmother fixing the dropped stitches of a run in nylon stockings when they were still stockinette stitch!

I love process and product is much less necessary. I have taught myself to knit, crochet, needle tat and do nalbinding. I have woven a set of plain weave placemats, and look forward to really learning to weave and to spin.

My siblings both do crafts, Annie here as well. My brother, Bob, who was an accomplished cross stitcher, reclaimed antique cast iron cookware and used it to perfection.

ANN BERRY


I've been teaching/working at Knit & Stitch for about 20 years now. I was a good customer before that. My Mom tried to teach me to knit, but made me practice on scraps until I got my tension right. That never happened. Then when I was newly married, I moved to Virginia, admired a friend's sweater. She made it, told me to go out and buy a pattern, yarn, and needles and she would teach me to knit. First project... a top/down sweater! The rest is history...

BRENDA VARNER


I have been involved with Fiber Arts from a very young age; encouraged by my mother and paternal grandmother I learned to sew, embroider, crochet, and knit before the age of 10. I have combined a love of art and travel to seek out teachers around the world learning to spin, weave, lace, and braid from many cultures.

I believe in the healing power of art. Awarded certification as a Zentangle teacher (CZT) from Zentangle Headquarters in 2020, I will share this meditative art form with anyone who stands still.

I currently teach various fiber arts at the Knit and Stitch boutique and I've taught on all their sponsored cruises. I also founded Florida Fiber In, an event for lovers of all the string-related arts which will celebrate 20 years next year!

DOTTIE AKRIDGE


Some of my earliest memories are of my mother and my grandmother knitting and crocheting. I loved getting a new pair of crocheted footies; my first crochet project was to knit my own!

Sweaters, tunic vests, and socks were gifts I looked forward to receiving. Who could resist a great crocheted tunic worn with bell-bottoms and moccasins? Such fashion in the early 70s:)

All along the way I continued to pick up skills learning to fix my mistakes and diving in to make anything I found interesting.

And so...now I own a yarn shop. What a glorious thing! I love all the colors, all the promise, but most of all the people I am able to come to know and love!

CHRISTINE TAYLOR


Growing up, I was mentored by my aunt, who was a sewing teacher. I enjoyed learning how to knit and crochet; wool fibers always excited me!

My love of fiber grew over the years, extending to sewing, silk painting, wool felting, and most recently spinning and weaving. I'm thankful to be part of a group of creative women and men!